Cyber Security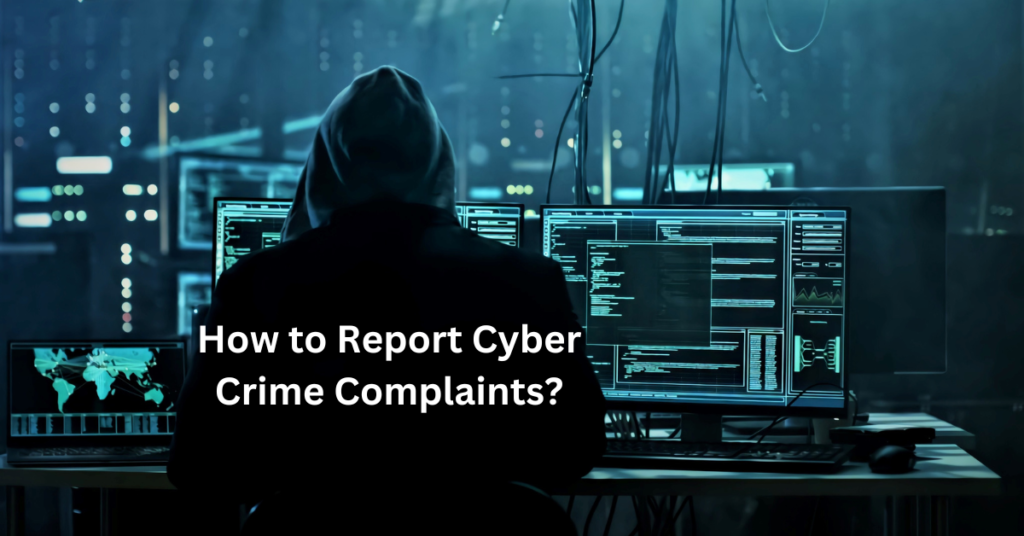 Cyber Crime in India & How to File Cyber Crime Complaints?
Introduction:
Cybercrime refers to illegal activities carried out using computer systems or the internet. It includes a wide range of criminal activities, such as hacking, phishing, online scams, identity theft, cyberbullying, credit card fraud, malware distribution, trafficking of illegal content, and more. Cybercriminals utilize advanced technology and techniques to exploit vulnerabilities in computer networks, devices, and online platforms to commit these crimes. The impact of cybercrime can be detrimental, leading to financial loss, privacy invasion, reputational damage, and even national security threats.
1. Hacking: Unauthorized access to computer systems or computer networks to steal or manipulate information.
2. Phishing: Sending fraudulent emails or creating fake websites to trick individuals into providing their personal or financial information.
3. Identity theft: Stealing someone's personal information, such as their social security number or bank account details, to commit fraud or other crimes.
4. Cyberstalking: Harassing or intimidating someone online, often through social media platforms or email.
5. Online fraud: Conducting fraudulent activities online, such as fake online auctions, online lottery scams, or fake investment schemes.
6. Cyberbullying: Using online platforms to harass, threaten, or humiliate someone, often through social media or messaging apps.
7. Data breaches: Unauthorized access and theft of sensitive or confidential data from a company or organization's computer systems.
8. Unauthorized access to financial accounts: Gaining unauthorized access to someone's bank or credit card accounts to steal money or make unauthorized transactions.
9. Cyber terrorism: Using computer networks or systems to conduct terrorist activities, such as hacking into critical infrastructure or spreading propaganda.
10. Intellectual property theft: Unauthorized copying or distribution of copyrighted material, such as software, music, movies, or books.
11. Online defamation: Making false statements or spreading untrue and damaging information about someone online, thereby harming their reputation.
12. Online extortion: Threatening to release sensitive or embarrassing information about someone unless they pay a ransom or meet certain demands.
13. Cyber blackmail: Using stolen information or compromising materials to blackmail and extort money or other favors from individuals or organizations.
14. Online child exploitation: Engaging in illegal activities involving the exploitation of children, such as child pornography or grooming.
15. Distributed denial-of-service (DDoS) attacks: Overloading a website or online service with excessive traffic to make it inaccessible to users.
16. Malware attacks: Spreading malicious software, such as viruses, worms, or ransomware, to gain unauthorized access to computer systems or to cause damage or disruption.
17. Online scams and fraudulent schemes: Engaging in deceptive practices to defraud individuals or organizations, such as pyramid schemes, fake job offers, or online romance scams.
18. Online harassment and hate speech: Using online platforms to target and harass individuals or groups based on their race, ethnicity, religion, gender, or sexual orientation.
19. Revenge porn: Sharing explicit or intimate images or videos of someone without their consent, often with the intention to humiliate or blackmail them.
20. Cyberstalking for sexual harassment: Sending unwanted sexually explicit messages or images, or relentlessly pursuing someone online with sexual intentions.
21. Financial fraud: Manipulating online transactions, credit card information, or banking systems to illegally obtain money or assets.
22. Online drug trafficking: Using the internet and dark web to buy and sell illegal drugs.
23. Cyber espionage: Unauthorized access to classified or confidential information of governments, organizations, or individuals for political, economic, or military gain.
24. Ransomware attacks: Infecting computer systems with malware that encrypts data, making it inaccessible until a ransom is paid.
25. Online lottery and prize scams: Promising individuals large cash prizes or winnings in exchange for their personal or financial information, or upfront payment.
26. Cybersquatting: Registering domain names that closely resemble existing popular brands or trademarks with the intent to sell them at a premium.
27. Illegal online gambling: Operating or participating in online gambling activities that are prohibited by Indian law.
28. Intellectual property infringement: Illegally reproducing, distributing, or selling copyrighted material, such as software, movies, and music.
29. Web Jacking: More website visitors suggest that more individuals are aware of the company's products, services, and brand. But what if someone else uses malware to take all of the traffic from your website? Among the more serious forms of cybercrime, this is how webjacking operates. It might be accomplished by using malicious methods to get administrator access to the URL, interfering with the Domain Name System (DNS), and then sending users to another website.
30. Social media manipulation: Manipulating social media platforms to spread fake news, misinformation, and propaganda with the intention to deceive or create unrest.
31. Online election interference: Using cyber techniques to manipulate the outcomes of elections or interfere with the democratic processes of the country.
32. Unauthorized access to government databases: Illegally accessing and stealing sensitive information from government databases or systems.
33. Cybersquatting: Registering domain names that closely resemble existing popular brands or trademarks with the intent to sell them at a premium.
34. Cryptojacking: Unauthorized use of someone's computer or device to mine cryptocurrencies without their knowledge or consent.
35. Cyberbullying in schools: Using technology to harass, intimidate, or threaten students, teachers, or staff members within educational institutions.
How to register a Cyber Crime Complaint?
To register a cybercrime complaint, follow these steps:
1. Visit Nearest Cyber Crime Cell: Locate your nearest Cyber Crime Cell or Police Station that deals specifically with cybercrime complaints. You can either search online or ask for guidance at your nearest police station.
2. Gather Information: Collect all relevant information and evidence related to the cybercrime incident. This includes details of the crime, screenshots, emails, messages, or any other evidence that could help in the investigation.
3. Write a Complaint: Prepare a written complaint outlining all the necessary details of the incident. Include your personal details, information about the crime, and any supporting evidence. Make sure to provide a clear and concise account of what happened.
4. Submit the Complaint: Visit the Cyber Crime Cell or Police Station you identified in step 1. Speak to the officer in charge and present your written complaint along with the evidence you have gathered. Make sure to bring any relevant identity documents that may be needed for official records.
5. Follow up: After submitting the complaint, request a copy of the complaint acknowledgment slip for your records. This slip will have a unique complaint number, which will be useful for future reference. Keep track of the progress on your complaint by regularly contacting the investigating officer or the Cyber Crime Cell.
Where to Report a Cyber Fraud Online?
National Cyber Crime Reporting Portal – https://cybercrime.gov.in/
You need to file a cyber crime complaint on National Cyber Crime Reporting Portal
This portal is an initiative of the Government of India to facilitate victims/complainants to report cybercrime complaints online. This portal caters to complaints pertaining to cyber-crimes only with a special focus on cybercrimes against women and children. Complaints reported on this portal are dealt by law enforcement agencies/ police based on the information available in the complaints. It is imperative to provide correct and accurate details while filing a complaint for prompt action.
Please contact nearby local police station in case of an emergency or to report crimes other than cybercrimes. The national police helpline number is 112. The national women's helpline number is 181 and Cyber Crime Helpline no. is 1930.
List of Cyber Crime Cells in India
Assam
CID HQ, Dy.SP. Assam Police Ph: +91-361-252-618, +91-9435045242 E-mail: ssp_cod@assampolice.com
Bangalore
Cyber Crime Police Station C.O.D Headquarters, Carlton House, # 1, Palace Road, Bangalore – 560 001 +91-80-2220 1026 +91-80-2294 3050 +91-80-2238 7611 (FAX)
Delhi
CBI Cyber Crime Cell: Superintendent of Police, Cyber Crime Investigation Cell Central Bureau of Investigation, 5th Floor, Block No.3, CGO Complex, Lodhi Road, New Delhi – 3 +91-11-4362203, +91-11-4392424 E-Mail: cbiccic@bol.net.in
Pune
Deputy Commissioner of Police(Crime) Office of the Commissioner Office, 2, Sadhu Vaswani Road, Camp, Pune 411001 +91-20-26123346, +91-20-26127277, +91-20-2616 5396 +91-20-2612 8105 (Fax) E-Mail: crimecomp.pune@nic.in, punepolice@vsnl.com
Jharkhand
IG-CID, Organized Crime Rajarani Building, Doranda Ranchi, 834002 Ph: +91-651-2400 737/ 738 E-mail: a.gupta@jharkhandpolice.gov.in
Haryana
Cyber Crime and Technical Investigation Cell, Joint Commissioner of Police Old S.P.Office complex, Civil Lines, Gurgaon E-mail: jtcp.ggn@hry.nic.in
Jammu
SSP, Crime CPO Complex, Panjtirthi, Jammu-180004 Ph: +91-191-257-8901 E-mail: sspcrmjmu-jk@nic.in
Meghalaya
SCRB, Superintendent of Police Meghalaya Ph: +91 98630 64997 E-mail: scrb-meg@nic.in
Bihar
Cyber Crime Investigation Unit ADDL. SP (CYBER CELL), Kotwali Police Station, Patna Ph: +91 8986912829 E-mail: cciu-bih@nic.in
Chennai
Assistant Commissioner of Police Cyber Crime Cell, Central Crime Branch, Commissioner office Campus Vepery, Chennai- 600007 Contact Details: +91-40-2345 2348, 2345 2350
For the Rest of Tamilnadu,
Cyber Crime Cell, CB, CID, Chennai ph: +91 44 2250 2512 E-mail id: cbcyber@tn.nic.in
Hyderabad
Cyber Crime Police Station Crime Investigation Department, 3rd Floor, D.G.P. office, Lakdikapool, Hyderabad – 500004 +91-40-2324 0663, +91-40-2785 2274 +91-40-2785 2040, +91-40-2329 7474 (Fax)
Thane
3rd Floor, Police Commissioner Office Near Court Naka, Thane West, Thane 400601. +91-22-25424444, E-Mail: police@thanepolice.org
Gujarat
DIG, CID, Crime, and Railways Fifth Floor, Police Bhavan Sector 18, Gandhinagar 382 018 +91-79-2325 4384, +91-79-2325 0798 +91-79-2325 3917 (Fax)
Madhya Pradesh
IGP, Cyber Cell, Police Radio Headquarters Campus, Bhadadhadaa Road, Bhopal (M.P.) Ph: 0755-2770248, 2779510
Mumbai
Cyber Crime Investigation Cell Office of Commissioner of Police office, Annex -3 Building, 1st floor, Near Crawford Market, Mumbai-01. +91-22-22630829, +91-22-22641261 E-mail id: officer@cybercellmumbai.com
Himachal Pradesh
CID Cyber Cell, Superintendent of Police, cyber crime, State CID, Himachal Pradesh, Shimla-2 Ph: 0177-2621714 Ext: 191, 0177-2627955 E-mail:cybercrcell-hp@nic.in, Online Complaint
Kerala
Hitech Cell Police Headquarters Thiruvananthapuram +91-471 272 1547, +91-471 272 2768 E-mail: hitechcell@keralapolice.gov.in
Orissa
Cyber Crime Police Station, CID, CB, Odisha, Cuttack-753001 Ph. No.0671-2305485 E-mail ID:- sp1cidcb.orpol@nic.in
Punjab
Cyber Crime Police Station DSP cyber crime, S.A.S Nagar, Patiala, Punjab Ph: +91 172 2748 100
Uttar Pradesh
Cyber Crime Cell, Agra Range 7, Kutchery Road, Baluganj, Agra-232001 Uttar Pradesh Ph:+91-562-2210551 e-mail: digraga@up.nic.in, cybercrimeag-up@nic.in
Cyber Crime Cell, Crime Branch, Law Enforcement Agency, Police Line, Agra – 282001
Tips to Stay Safe from Cyber Crime
Keep your software and operating system updated.
Keep changing passwords often.
Do not connect to public wifi.
In case of missing / loss of mobile phone block your sim card.
Never share bank account details, registered phone number, one-time password (OTP), Aadhaar card, and other details with anyone.
Do not click on any suspicious/malware links.
Use the privacy settings in all your online accounts/ social media accounts.
Transaction of money should be done through authorized sites.
Do not share KYC details over the phone or email